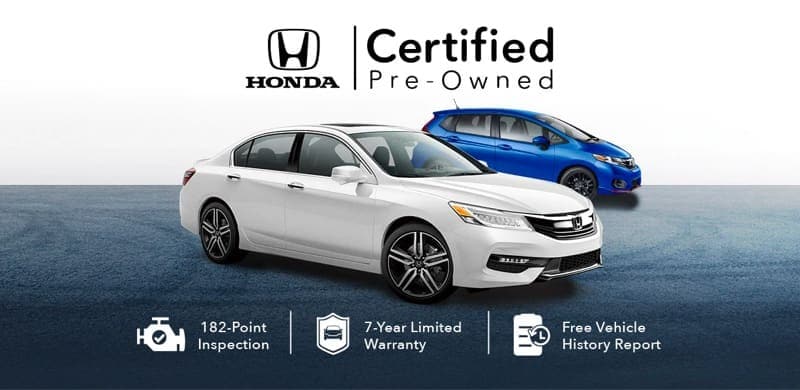 Certified Pre-Owned
Nothing compares to the quality of a Honda. No other program comes close.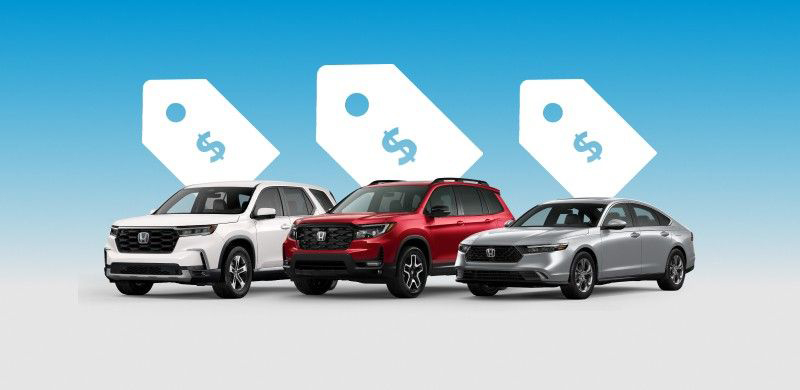 Current Offers
See this month's featured current offers going on now on new Honda vehicles.
Our Reviews
Our overall experience was perfect, we were waited on hand and foot and our salesman Zach made everything very comfortable and relaxed for us, we had fun deciding on our new crv together and the team did a great job working with us to finance the vehicle in a way that was appropriate and comfortable to us, excellent help and service.
Working with Cody Zans to trade in my Chrysler Pacifica minivan and get a brand new 2023 Honda Odyssey Elite was the easiest process! It only took one phone call to tell him my situation and what I wanted and then he kept me updated via text until my perfect car became available! Somehow in this crazy market he was able to get me EXACTLY what I wanted in only a few weeks instead of 6-12 months like many dealers quoted me. He also gave me a great price for my trade it making it such an easy one stop transaction!! No high pressure and the nicest guy!! 10/10 recommend contacting Cody directly for all your car shopping needs.
Eric Petersen was my sales associate, and I can honestly say that in 50 years of car buying experience this was by far the best, the least painful, the most clear, and the fastest. I couldn't be happier with the service, the vehicle and the personnel involved at Frank Leta Honda. Will happily do more business there anytime.
Great experience! Eric was quick to respond to messages and made the process simple. Thank you!
We looked everywhere around. We couldn't find anything under $10,000 that looked even half way decent. We found a clean, great running car and knew it was the one. Jeremy helped us, our experience here was relieving.
My wife's car was totaled in the flood so she had to buy a car. We worked with Ken Grams and he made the whole process so easy! If you need a car come check out what they have.
We just bought a new car from Ken Grams. He has been so helpful and amazing to work with. Definitely recommend coming to see him if you need a car
I was dreading buying a car after a really bad car accident.. Devin made the process much more bearable. She went above and beyond to help us find a reliable, safe used car with low mileage and it's a Honda. Thanks Devin for helping me get some new wheels!
Ken helped me alot and was very helpful
Steve Neely was amazing, delivered as promised, friendly, professional. Would purchase again from him. Birty was great in the business office. Wonderful experience at Frank Leta Honda!
Great experience buying a used car with Devin Baner! I was dreading buying a car after a really bad car accident.. Devin made the process much more bearable. She went above and beyond to help us find a reliable, safe used car with low mileage and it's a Honda. Thanks Devin for helping me get some new wheels!
Amazing experience!! I previously leased a Civic in 2020 with the help of Ken and as the end on my lease approached he reached out to get me in a new car! He was very attentive and answered all my questions. He even walked me through all the features and settings before I drove off the lot! I was able to get into a 2022 Civic and with the help from Hank in finance my payment virtually stayed the same! Great experience over all!
Today was the end of the most quick and pain-LESS experience I've ever had buying a car in my life. Zach and Hamzeh were the ABSOLUTE BEST! Very thorough at their jobs, very wonderful guys. I will definitely be getting another car from Frank Leta, Zach, and Hamzeh. Thank you guys so much
Kyler was great he made me feel welcomed he was up to date with everything and he was awesome thank you
Ken was the person that help. Easy and fast got me approve and great person ! 👍🏽👍🏽👍🏽
Ken was great!!! We got a car!
Had a great experience buying a car from here. Zero hassle and super friendly people. Kyler and Birty was great to work with! Highly Recommend!
Ryan was awesome!!! Great customer service! I will definitely refer people to come here for their vehicles.
Ryan was very helpful and efficient! Will definitely recommend to friends and family! Thank you so much for your help!!
I recently purchased a 2016 Honda Accord through Frank Leta Honda, from my sales experience to my finance experience, everything was top tier. I worked with Kyler and Zach who guided me through the sale. The car I purchased had recently arrived to the lot and still needed to go through Frank Leta's 112-point inspection to ensure it was up to their standards, and Zach/Kyler were very upfront and excellent at providing me with updates through the process with the service department. They went above and beyond to ensure that I knew what was going on with my car and provided me with regular check-ins! Zach was extremely patient with my 3-year old son during our first visit to the showroom to test drive my car, and even helped transfer over the car seat during the test drive, and provided him with some yummy snacks! My son still asks to go and see him! My finance advisor Tito was helpful as well and so friendly, talking numbers is never fun, but he made it as stress-free as possible and I know that if I have any questions he will be an excellent resource! I will definitely be going back the next time I'm in the market!
Smooth transaction with this team and Kyler DeGaeto never stopped hustling. I would happily do another deal with these guys.
I was just on a month-long ~5000 mile road trip from Miami to Los Angeles, detouring north to visit national parks as I returned home from finishing up a seasonal job. Unfortunately my car decided now was the time to strike, breaking down 3 times in the course of 1.5 weeks. For the newly unemployed, stranded, 28-year-old female, who is 2500 miles away from any family or friends, that's a rough situation. Well, Frank Leta Honda was the lucky shop to greet me on my 3rd incidence of breaking down (and already about $2000 into breakdown-related costs). I limped my car to the shop, walked inside, and promptly burst into tears as I explained my situation to the first service advisor I found (Tim Dobrinic). And quite honestly, I cannot imagine a person/shop handling the situation better. Tim was incredibly kind and helpful, the shop worked rapidly, all work done was completed well (I got home to LA 6 days later!!), I was given a loaner Honda CR-V to use while they fixed it (for free??!?), and the bill was incredibly reasonable. But what really set this shop apart was how transparent and kind Tim was, and how I felt like he treated me like an intelligent person—so often in shops, I feel like they refuse to listen to anything I say (because I'm young? A woman?), but he seemed perfectly content to talk through the more technical parts of the repair with me, and even walked me back to talk to the tech working on the car at one point. I kept being impressed by feeling like a had a real ally but was terrified that when the bill came, I would realize that I was paying for the kindness. But nope—this shop and Tim really are to be trusted that much. They're wonderful people and I would trust them with all my repairs if I lived in the area.
Steve at Frank Leta Honda is amazing. He helped my son purchase his first car. The process was smooth and quick thanks to Steve!
Cody & Ryan P. were extremely helpful. As a first time car buyer I was very comfortable working with them. They answered all questions and made me experience here at Frank Leta a great one!
Steve Wallace was amazing! He was super nice and helpful and made everything easy and run smoothly!

Welcome to Frank Leta Honda
Proudly Serving St. Louis, O'Fallon, Saint Peters, Wentzville, and Saint Charles, MO
St. Louis Honda car owners, current and future, look no further than Frank Leta Honda. We offer a huge inventory of new Honda cars, SUVs, and vans for the entire Saint Louis Area - so if you're searching for a new car for sale from a trusted car dealership, then we're the place for you.
Your Source for Used Cars in O'Fallon, MO and St. Louis
We also have a wide and ever-changing selection of used cars for sale in O'Fallon, MO. Our focus is on providing top-notch customer service from the moment you set foot on the lot and for years to come, whether you're visiting us for a new car, used car, or more!
Frank Leta Honda Near St. Louis, Saint Peters, Saint Charles and Chesterfield in O'Fallon Missouri has been a local preferred Honda dealer for over 50 years. Our experienced staff of managers, salespeople, Certified Honda Product Specialists, and certified Honda mechanics are not only here to help you select your next Honda, but also keep that vehicle on the road in like-new condition for years to come. We are dedicated to making sure you get your new or used vehicle at the right price.
Get Directions To Frank Leta Honda